Believe it or not, we actually saved money flying home in first class a few days ago.  We also figured out how to get a free room upgrade at our hotel, get a few rental car fees waived and we were able to enjoy a late checkout, too.  Read on to see how we saved money on some very nice extras on our recent trip to Texas.  I also tell you about some unexpected fees so that you will know to look out for these extra charges the next time you fly.

Airline Savings Ideas & Surprising Fees to Know About Ahead of Time: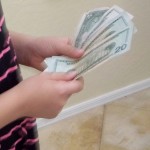 One thing we do every year is save up our membership awards points on our American Express card.  We redeem them every summer for our airfare.  We usually travel with these points on either Southwest Airlines or on US Air.  This year we took US Air and we were able to get three of our four tickets paid for with our AMEX points that are converted into frequent flyer miles.  Be warned though….it wasn't exactly free!
AMEX has a ticketing charge of $39.00 per passenger so we still paid  $156 in fees for tickets that we thought would be free.  Since three of our four tickets would have been over $1,000 (tickets were $436.80 a piece), then the $156 is still a lot less, but just be aware when you are trading in travel points that you may still incur ticketing fees, so remember to budget for unforeseen fees.
To lower your airfare price search, always book as much in advance as you can and travel on the airline's slowest days, which tend to fall on Saturdays and Tuesdays.  You will usually pay more if you book on a Friday, Sunday or Monday which are usually high traffic days.