Last week was Fall Break for my kids.  Some folks, who live outside of Arizona, have asked me what the heck Fall Break is and I answer with the fact that my kids start school on August 5th.  With such an early school year start date and with the absence of snow days (thank goodness), here in sunny Phoenix, our kids get a week off in October for Fall Break and a week off in March for Spring Break.  It was a much needed break!  Since the school year kicked off in August, both of my kids have taken on a mountain of activities that include travel hockey, high school golf, honors classes, student council, broadcast club, show choir, dance and more.  Plus after recovering from a sprained ankle and a virus that hubs and I shared, we were more than ready for a break.
Hubs took our boy to the big UT vs OU game in Dallas and they had a big time, especially since the Horns won!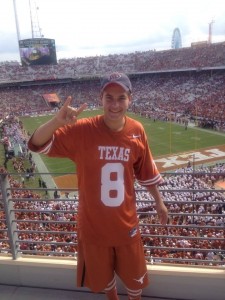 So since my girl and I stayed behind, we decided to have a little fun ourselves.  Once the weekend hit and I was done with my busy work week, we ventured out and hotel hopped for three days in a row.  It was very fun and it gives me the opportunity to review three different properties for you to consider when you want to take a staycation or have friends or family coming to town that are looking for a place to stay.
We chose three very different properties to pitch our tent during our three day hotel hop.  Our big splurge was the Ritz Carlton, then we headed over to the new Hotel Palomar in downtown Phoenix and we ended our fun at the Hyatt Regency Gainey Ranch Resort.  Here are pics from our adventure and our review of each place…
The Ritz Carlton is a luxury hotel in a great location in the Biltmore area of Phoenix.  
I was able to splurge because with our American Express card we were able to take advantage of a promotion that gave us the room, two dinners and two breakfast entrees all for around $300.  The food is amazing at the Ritz.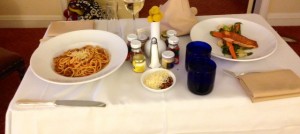 I highly recommend the salmon if you ever dine there.  My daughter's spaghetti was yummy, too.  And the breakfast was just as tasty the next morning with a delicious breakfast burrito for me and hot cocoa for my girl.   [Read more…]