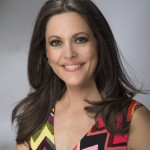 My most important job is being a busy Mama to my son (now a college sophomore) and my teenage daughter.  Before that, I was a driven career gal.  I loved my job, but I truly couldn't wait to become a mother.  With this blog and my lifestyle television segments on KTVK Channel 3, I balance both and I am thoroughly enjoying the fun, tiring and crazy ride.
After graduating in the early 90s from the University of Texas at Austin with a Bachelor's degree in Journalism, I began my career in marketing with Southwest Airlines.  As an Area Marketing Manager for the airline's Arizona office, I regularly conducted on camera and print interviews about the airline's growth and culture.  Plus I got to travel all over, so I will also include some travel tips and hotel and resort recommendations in this blog.  Now I travel frequently with my son's travel hockey team.
In 1998, I joined KTVK Channel 3 as a segment producer for the #1 rated "Good Morning Arizona!" show.  Four years later, I took two years off to be a full-time homemaker after the birth of my second child.  In 2003, I returned to KTVK to help create a brand new morning show for women called "Your Life A to Z" and worked on the program as a producer, writer, reporter and fill-in cohost.
Nine years ago, I went freelance to better balance the growing demands of my busy family's schedule.  KTVK gave me a regular column and weekly segments that I fill with topics that include parenting, beauty, cooking and more.  With the tips from my 3TV segment and the daily craziness of my family life, I dreamed up the name manic managed mom and decided to start this blog to have a place to share my segments and family survival strategies.
About My Blog:
ManagedMoms.com is a PR friendly blog, and would love to hear from you!  Please contact Rachel if you have a product or website you would like ManagedMoms.com to review and/or promote.
ManagedMoms.com primary focus is with beauty products, nutritious foods and natural products. However, we use a lot of things in our home that do not fall into those categories (electronics, clothes, etc.), therefore I am open to reviewing other things as well, if you believe your product would be a good fit.  We also welcome sponsored posts and offer sponsored advertising space on every page of this blog as well.  Contact Rachel at rachel@managedmoms.com for rates and information.
With over 12 years in broadcast reviewing products as well as being a mom, I bring a lot of perspective regarding your customer's interest. I go into my reviews with an open mind, and I give my honest opinion.
I do prefer that you provide a duplicate of the item I am reviewing for me to offer as a giveaway on my blog, but it is not a requirement.  Reviews coupled with giveaways do tend to draw more traffic to the review however, which, in turn, sends more traffic your way.
Photo courtesy of John Hall Photography.